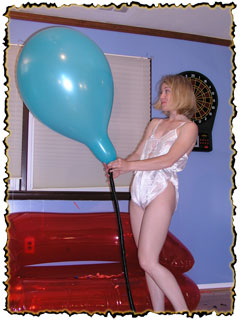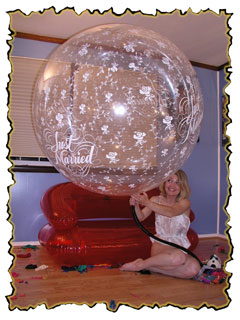 "Samantha's Popping Storm"
Our latest model, Samantha, is pleased to be surrounded by balloons and feels that it "must be my birthday". Hmm...being in a great mood and surrounded by balloons, what should she do? Well loud noises also makes her happy so of course it is time to start popping. Grab one balloon, untie it, put it to her lips and start putting deep breaths into it. Bigger and bigger the balloon gets until finally, boom! Samantha is really excited now. One blow to pop simply isn't enough. Another big boom from blowing to pop, and then another and then another. Yes, she is getting winded, but Samantha doesn't care. The resulting explosions are worth the hard work. Okay, time for some rapid popping. Out comes the pump and the booms get deafening. She loves the noise. Hmm, her nails are going to waste. Maybe she can use them to also pop balloons. She digs into the tight latex and finally boom! Another, and then another. Samantha is really enjoying this party. Over an hour of big booms and she is now satisfied, but wait, there is a pretty clear 36" "wedding" balloon left. Lets see just how big she will make this pretty balloon while she makes it explode. This is another great video for your collection. Click on the film reel below for a sample clip from the video.

To download the DVD over FTP, please read our FAQ or email fnmjd@voicenet.com for setup and instructions.



$40.00 (DVD)

67 minutes,


Extras include 252 pictures for your TV/PC , 32 chapters and trailers, .

You need Quicktime Pro to save the preview. If you don't have the pro version, but still want to save the movie, email me and I will be happy to email it to you.
Sample
Clip