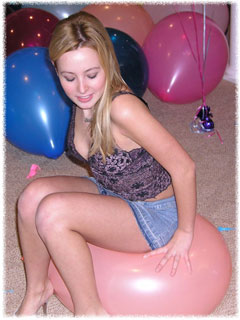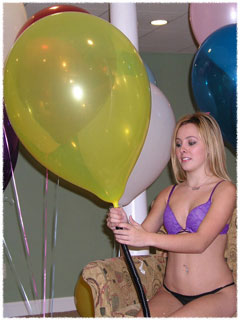 "Marie's Balloon Bursting Melee"
Marie is joining our video collection and what a cutie she is. Wheter in her Daisy Dukes or her colorful bra and panties she is totally the girl next door. And this sweetheart just loves popping balloons. Marie loves all kinds of popping. Her only requirement is that it results in a loud bang. She spends the entire video rotating between blow to pops, sit popping, squeeze popping, pins and her heels. This is another great video for your collection. Click on the film reel below for a sample clip from the video.

To download the DVD over FTP, please read our FAQ or email fnmjd@voicenet.com for setup and instructions.



$40.00 (DVD)

69 minutes,


Extras include 281 pictures for your TV/PC and trailers, .

You need Quicktime Pro to save the preview. If you don't have the pro version, but still want to save the movie, email me and I will be happy to email it to you.
Sample
Clip