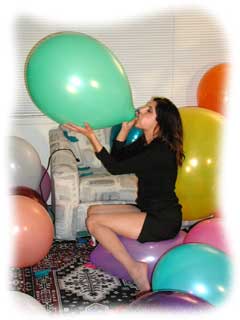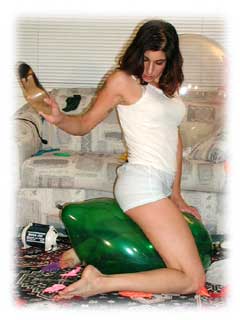 "Talia's Balloon Thunder"
Talia is one sexy, sophisticated woman. Having just arrived home from her office job, she is dieing to dive into some balloons for good stress relief. Dressed in her slit skirt and high heels, she casually makes her way through the balloons to begin some massive popping. Stomping, sitting and squeezing quickly begin and then it is on to the inflation. Talia is in no way intimidated by large balloons. She blows up some very big ones to both play with and blow until they pop. Talia then relaxes a bit more and removes her high heels. It isn't long though until she uses the spikes as a deadly weapon. Next up is the giant 60" monster pink below pictured below. This one just about knocks the wall out when it explodes. By the time she is ready to get some sleep, not one of the balloons remains. If you like it when a sexy, sophisticated woman pops balloons in every way possible, this is the video for you. Be sure to click on the film reel below for some sample clips from the video.




You need Quicktime Pro to save the preview. If you don't have the pro version, but still want to save the movie, email me and I will be happy to email it to you.


$25.00 (DVD)
Extras include 30 chapter selections and 100 pictures for your TV/PC on DVD-ROM.