"Sarah is truely stunning and VERY at home with Balloons, not only has she the longest legs I have ever seen, but the most talent on a Mellyloon video yet !. She is a totally fearless popper, you get to see B2P, sitting, squeezing, stamping all in 1 brilliant film. It is an absoloute bargain !, $25 for the video - excellent quality and only 4 days to get to England. This is a REALLY good film, I would recommend this to anyone, it truely is THAT good. Another quality film from Mellyloon, FANTASTIC (and WOW those legs !!!!!!!!!!!)"...Customer in England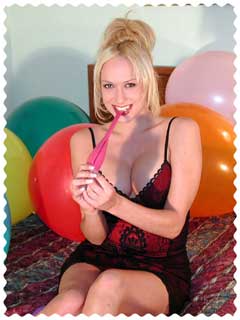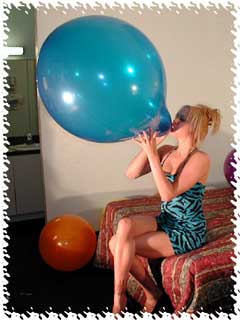 "Sarah's Balloon Sensation"
Sarah is just drop dead hot! We couldn't wait to make her available on video for you and now here she is. Sarah's video is divided into two parts. In the first part of the video we turn Sarah loose on a bunch of balloons. She enjoys squeezing, sitting on, blowing them up and most of all, poppping them. After watching Sarah have her fun in the first part of the video you will get to see all of her photo shoots in a compilation that we have added to the second half of the video. It will make you feel just like you were there on the set with us. In addition, the DVD version of the video contains all the photos from the sets so you can re-live her wonderful work. Be sure to click on the film reel below for some sample clips from the video.




You need Quicktime Pro to save the preview. If you don't have the pro version, but still want to save the movie, email me and I will be happy to email it to you.


$25.00 (DVD)
Extras include 30 chapter selections and 180 pictures fromthe movie and the photosets for your TV /PC on DVD-ROM.