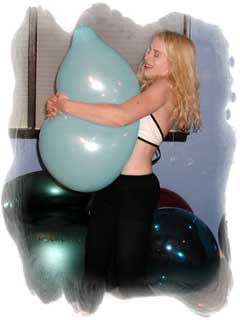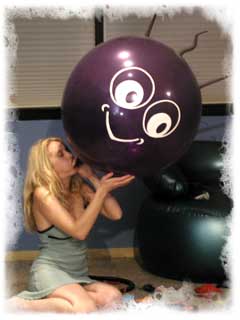 "Renee's Roaring Booms"
Renee is back and she just loves the noise that balloons make when they pop. In the beginning of the video, she comments, "I bet you wish you were here with me popping all these beautiful balloons". Renee loves the fact that her ears will ring from the loud booms and she even talks about how she loves to go to see fireworks. In the first part of the video, Renee runs around in a room full of balloons and bear-hugs, squeezes, sits and stomps on everyone to make them pop. After all the balloons are destroyed, Renee decides she wants some blowing to pop action. Talking during the whole time about how exciting the incredibly loud explosions are when the balloons burst from the pressure, Renee blows up 5 balloons until they pop. In the next scene, Renee changes outfits and returns to another balloon filled room. She decides the room isn't quite full enough so she takes a few moments to blow up some more. While inflating extra balloons, Renee talks more about how she loves the loud noises and explosions that balloons and fireworks make. Once the room is full enough, Renee decides to untie some of the balloons to blow her own air into them causing the pop. A ton of more blow to pop, squeezing and sitting on balloons takes place until every last balloon gives Renee the satifying loud explosion she desires. She ends the video with one last pop of an "Alien" balloon. Be sure to click on the film reel below for a sample clip from the video.


Sample
Clip
You need Quicktime Pro to save the preview. If you don't have the pro version, but still want to save the movie, email me and I will be happy to email it to you.


$25.00 (DVD)
Extras include 36 chapter selections and 116 pictures from the movie for your TV /PC on DVD-ROM.