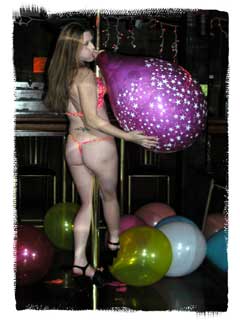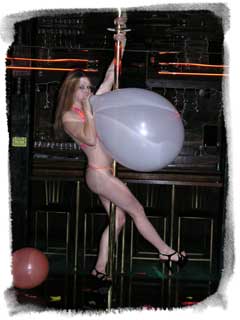 "Heaven's Popping Pole"
This is a new type of video for us and very exciting. Heaven is a dancer who loves her art. She also just happens to be great at blowing up balloons until they pop. In addition, no pumps are used in this video. All the inflation is performed by Heaven, and she deserves a standing ovation. Heaven starts out blowing up the balloons while relaxing on one of the club's couches. It seems no balloon is too tough for her. Uniques, Tuf-Tex, 24" Qualatexes are all popped by Heaven blowing into them until they can't take it anymore. However, Heaven soon decides to spice things up and take her act to the stage. The balloon covered dance stage is where Heaven is at her best. Swinging on the stripper pole while blowing up and popping her balloons comes natural to Heaven. Some people have trouble walking and chewing gum at the same time, but Heaven can easily hang and spin up-side down on her stripper pole while blowing balloons up until they burst and have a lot of fun doing it. One other thing that Heaven likes to do is dig her fingers into some of the balloons that are already blow up. If you like squeezing, this is also a good video for you. Be sure to click on the film reel below for some sample clips from the video.




You need Quicktime Pro to save the preview. If you don't have the pro version, but still want to save the movie, email me and I will be happy to email it to you.

$25.00 (DVD)
Extras include 36 chapter selections and 227 pictures from the movie for your TV /PC on DVD-ROM.