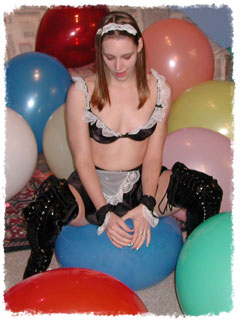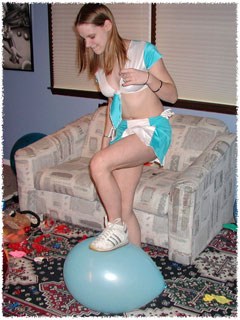 "Domini: The Balloon Cleanup Dynamo"
Domini is a hard working girl. She works so hard that she even has a secret second job. During the day she cleans houses while dressed in a sexy French Maid uniform. Then after her first job during the day is complete, Domini dresses in her favorite cheerleader uniform and heads off to cheer on her favorite team. Both jobs she keeps secret from each of her clients, scared she may get judged by the other and get fired. Both her careers, however, come into conflict when she is working late finishing her maid job and she runs into a room full of balloons she has to cleanup. She feels rushed because for fear of being late for her cheerleading gig and gets annoyed with the balloons. She stomps them with her high heels and notices the noise giving her a thrill. Suddenly the concern for being late isn't that important anymore. Every girls needs some fun now and then. Domini spends 30 minutes discovering all the great joys of popping before changing into her cheerleading outfit. She then spends thirty more minutes continuing to enjoy her new found balloon popping passion. Click on the film reel below for a sample clip from the video.

To download the DVD over FTP, please read our FAQ or email fnmjd@voicenet.com for setup and instructions.



$40.00 (DVD)

66 minutes,


Extras include 221 pictures for your TV/PC , deleted scenes, easter eggs and trailers.

You need Quicktime Pro to save the preview. If you don't have the pro version, but still want to save the movie, email me and I will be happy to email it to you.
Sample
Clip