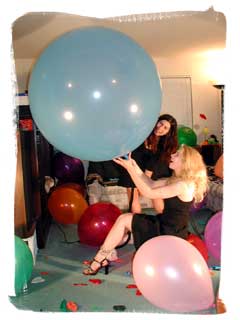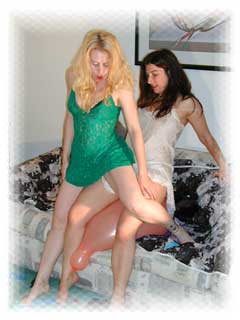 "Balloon Tag Team"
Renee loves balloons, but is tired of playing with them by her lonesome. Her best friend Lora is a girl that is filled with fun and excitement, and loves to try new things. Knowing this, Renee sees an opportunity to introduce Lora to her secret fun. At first, Lora is a bit scared the balloons will be too loud and may hurt her when they pop, but Renee assures her there is nothing to be freightened of. When Lora blows up her first balloon until it pops, she giggles with delight and proclaims, "that was so cool!". Before we know it, Lora is challenging Renees to see who can blow up a 20" Tilly until it pops, first. Renee soon realizes she has created a balloon popping monster. Together these twos gorgeous women combine their efforts to pop enough balloons to make themselves, and you, very "satisfied". Be sure to click on the film reel below for some sample clips from the video.




You need Quicktime Pro to save the preview. If you don't have the pro version, but still want to save the movie, email me and I will be happy to email it to you.



$30.00 (DVD)
Extras include 32 chapter selections and 135 pictures for your TV /PC on DVD-ROM.