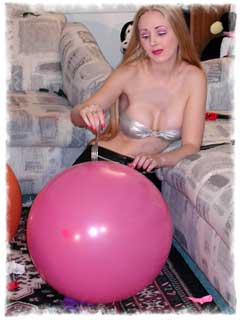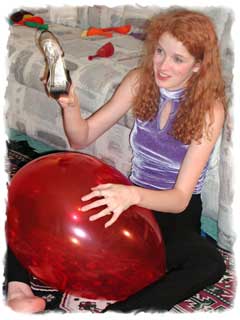 "Balloon Class, Balloon Recess"
This video consists of two shorter videos combined into one. The first part features Chanta. Chanta teaches us about the dangers balloons face when left out in the open. They can be stepped on by accident, sat on, inflated too much or simply come into contact with random sharp objects. Of course, what would a class be without some first hand demonstrations of what not to do if you want to properly care for your balloons. Chanta makes a great teacher, and uses her brilliant humor and wit to keep the viewer attentive. In the second part of the video, Misty and Lena join us for some ballon games that involve a lot of popping. After all, when class is over it is time for recess. A lot of goofy fun takes place when the girls blow up, sit on, stomp and squeeze balloons in an attempt to maximize their fun. They even get to test their punchball skills. The result is that two adults get to become kids again. Be sure to click on the film reel below for a sample clip from the video.


Sample
Clip
You need Quicktime Pro to save the preview. If you don't have the pro version, but still want to save the movie, email me and I will be happy to email it to you.




$25.00 (DVD)
Extras include 30 chapter selections and 67 pictures from the movie for your TV /PC on DVD-ROM.